Almost every Ghanaian knows or have this perception that Ghanaian teachers are not paid well, but it seems this might not be true or it is a matter of subjectivity.A Facebook user who seems to be a teacher has undoubtedly caused huge traffic of 'Tell IT All' Facebook platform. This facebook user gave an answer to a question that was asked to know the salaries of Ghana Education Service (GES) teachers.
The question was intended to find out the amount of money graduate or degree teachers working with the Ghana Education Service takes home. The question goes this way, "Admin please approve. How much does graduate or degree teachers under GES take home as salary?"
Several people have their perspectives and experience about it, but one notable person came out without fear and gave surprising answer to the question.
According to this teacher, he revealed that, Diploma teachers and degree teachers working under GES take Ghs1,820 and Ghs2,450 as net salaries respectively. And even added that both of these workers also take home an allowance of Ghs1,700 every November.
Below is the response the teacher gave to Ghanaians on Tell IT All page.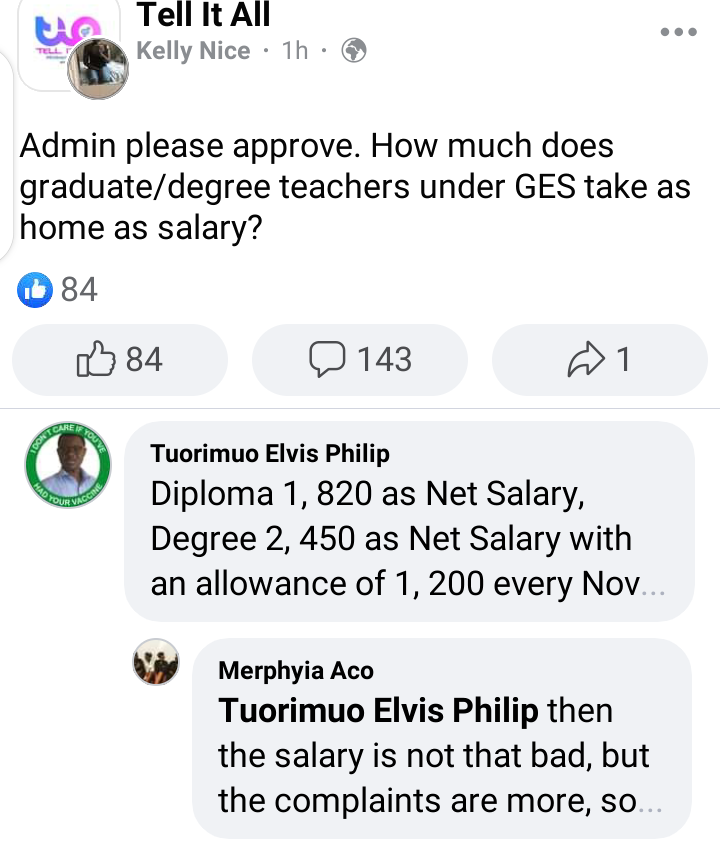 Right after that revelation, Ghanaians could not believe it because they have always known that teachers do not take home good salary but this revelation from a teacher shows that Ghanaian teachers are well paid.
A user on the page said, "then the salary is not that bad, but the complaints are too much." Those who were against the answer called him a "sell out" but the teacher went ahead to let Ghanaians know that, the truth should always be told and that was what he has done.
He even went ahead to reveal that, he tells all his students in class the amount of money he takes for teaching them monthly.